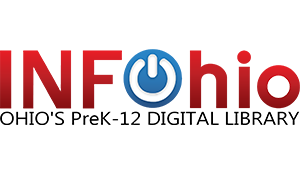 INFOhio is a statewide cooperative school library and information network, supporting and enriching teaching and learning by providing equitable access to quality resources for Ohio's PreK-12 community of students, educators and parents. Username and Password required for access; see reference desk. 
The INFOhio Early Learning Portal contains more than 50 websites and apps to help little learners prepare for school and their futures. The Early Learning Portal is for parents and educators of children ages three through five and helps preschool children learn letters, numbers, and basic knowledge; interact with other children and adults; engage in meaningful play; and develop focus and problem-solving skills.
Each resource was chosen and evaluated by educators and librarians with expertise in early learning and literacy. INFOhio encourages adults to use the digital resources with children, providing guidance and support.